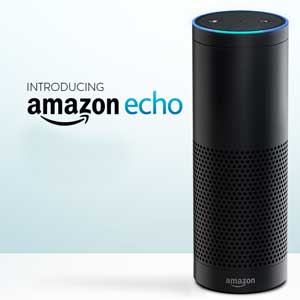 Amazon made it again! Another surprise release of new gadget – Amazon Echo. This gadget will probably more suitable for whole family instead of individual use. We hope it can be shipped directly to Singapore, but most likely it will be like all other Amazon's inventions, you probably need a forwarder service to get it ship to Singapore.
.
Amazon Echo is a cylindrical 360-degree speaker, it has built-in artificial intelligence to serve as your assistant. Echo can listen to your voice commands or questions and answer you with the information you needed. Just like those sci-fi movies that we watch, where people can have voice interaction their A.I, system at home.
In order to speak to Amazon Echo, you need to say the activation word first, for example:
"Alexa, how many kilogram for 9 pounds?"
"Alexa, what time is it?"
"Alexa, play We Are The World."
"Alexa, wikipedia Lee Kuan Yew." (Wikipedia can be used as verb now)
"Alexa, what is he weather in Tokyo tomorrow?"
By the way, 'Alexa' is Amazon Echo's default activation word (also know as the 'name' for the speaker, you can change it to any name of your choice).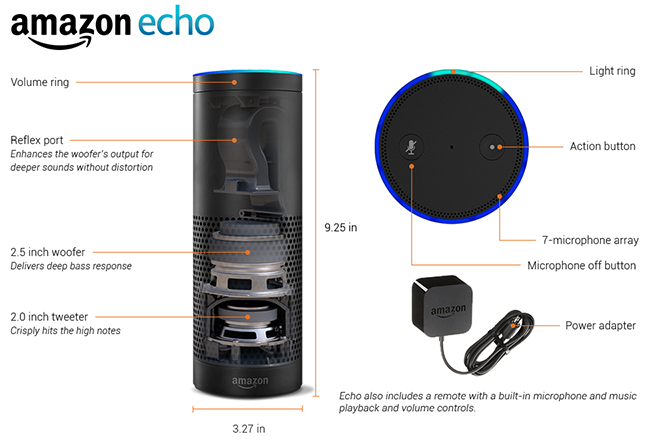 Echo is connects via dual-antenna, dual-band Wi-Fi, so it should have no problem to be used in Singapore or Malaysia. It is on all the times and connected to Amazon Cloud. When you ask Amazon Echo a question, it will take your request to the cloud, from there the request will be parsed and responded immediately. Since Echo is relies on Amazon Cloud Services, so Amazon promise that it will gain more functionality over time. Currently Echo can act upon request for weather, news and information from a variety of sources, including local radio stations, NPR, and ESPN from TuneIn. Play your music from your Amazon Music Library, Prime Music, TuneIn, and iHeartRadio. It can also assists in setting alarms, timers, and prepare shopping and to-do lists. To answer your specific questions, Amazon Echo will ping Wikipedia for retrieving answers.
Amazon Echo Video Demo:
Get Amazon Echo to Singapore
Amazon Echo is now yet to be released for public sales, instead it is made available by selected invitation only. The price tagged at $199 and selected Prime member can get it at $99. So, for those who are interested to get one, you need to act fast to request for the invitation and get more information here.  Hope you will successfully get Amazon Echo to Singapore!
Amazon Echo is Now Open for Sales!  Click Here to View Promotion. Use this shipping forwarder to ship it to Singapore.