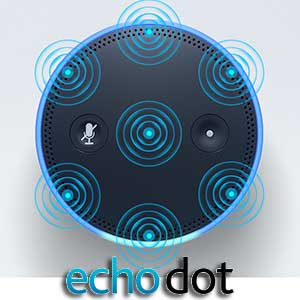 Amazon has just unveiled two new voice-enabled devices, namely Amazon Echo Dot and Amazon Tap. Both of these Alexa-enabled devices are priced cheaper than the existing Amazon Echo. The New Echo Dot is launched at $89.99 whereas Amazon Tap is priced at $129.99 during pre-order. Click here to find out the updated price of New Echo. Since we know that Amazon Echo can be used in Singapore, we believed there will be no different for Echo Dot.
Amazon Echo Dot Preliminary Reviews
Obviously, Amazon is planning to bring its voice assisted devices to be part of your home and daily life. The Echo Dot is a smaller version of Amazon Echo, the height of Echo Dot is shrunk to 3.8cm in compare to the height of the original Amazon Echo, which is 23.5cm. This smaller design doesn't contain the bulky speaker that Amazon Echo has, and it only maintain a powerful tiny speaker for voice command feedback and alarm ring. But in turn, Echo Dot offers the capability of connects to an external stereo systems or loudspeakers. It can also be wirelessly paired to any Bluetooth speaker that doesn't require PIN. If you own a wireless headphone, you can also have it connected to Echo Dot though a 3.5 mm audio jack and enjoy your private session with Echo Dot.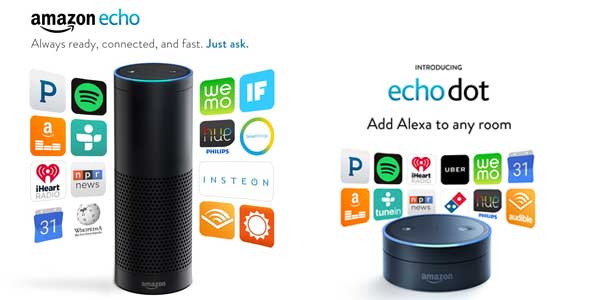 The Echo Dot provides the same features as the original Echo; it still maintain the array of microphones to identify your voice commands from anywhere in the room, the blue ring light to show you that Alexa is responding. The intelligence of Alexa is stored in the cloud, the more you interact with Alexa, it will become smarter and smarter to recognize your speech patterns and personal preferences. You can ask Echo Dot anything as you do with the original Echo like unit conversion, ask spelling of a word, make a calculation, check the weather, control other smart devices in your home, buy things from Amazon, read your audio book and stream music in Singapore.
Playing music is the major part of Echo's activities; however the speaker of original Echo is not sufficient enough for a larger room or to meet your higher expectation on the sound quality. With Echo Dot, you can now have it connected an audio system of your choice.
The Echo Dot is launched at US$89.99 which is cheaper than the original Echo by half. However, Amazon makes the pre-order of Echo Dot a bit differently this time, and it is currently only available for Prime members who already have an Echo or Fire TV. And the Echo Dot can only be purchased through your existing Amazon Echo, what you need to do is to tell your Echo by saying "Alexa, order an Echo Dot". Amazon has not yet announce if Echo Dot will be sold to all customers in the future. Although you can only order Echo Dot through your Echo device, there are these workarounds to order Echo Dot even you do not have an existing Amazon Echo or Fire TV.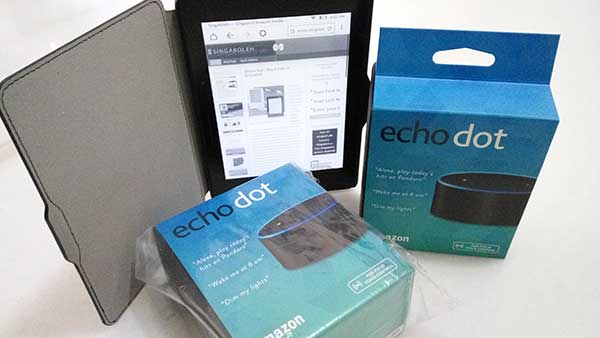 How to buy Amazon Echo Dot in Singapore?
The buying process of having the Amazon Echo Dot deliver to Singapore will be very much the same as buying Kindle devices from US Amazon, and you will need a package forwarder to deliver your order from the US to you in Singapore. Just refer to this tutorial for more information.