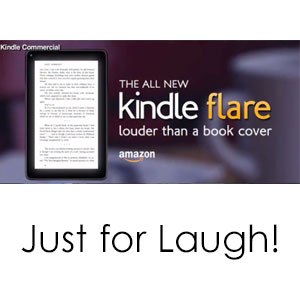 Amazon new tablet called Kindle Flare? This is for real or fake?  Leave your comment below after reading this.  According to the information sourced from "The Onion": The Onion has the first to reveal the latest release new Kindle tablet, the new member of the Amazon Kindle family is called Kindle Flare, this is a new tablet that will "loudly and repeatedly" announces the title of the book you are reading.
The spokesperson for Amazon explained that the repetitive shouting from Kindle Flare will appeal to fans of print, who miss the ability to display a book's cover to strangers. What does this mean? Well, watch the video below to see it yourself:

Ok, just imagine if you are using the Kindle Flare in Singapore, especially on the MRT, cool or annoying? LoL. Anyway, the source said this device also offers the revolutionary new technology "auto-explain" for the user who has a little shame about their reading choice. "Auto-explain" offers a rationalization for the book you are reading while also regard about a famous book that you also like.
Below are some of the features and specifications of Kindle Flare as listed from the source:
Millions of ebooks title available in Kindle store
7 inch color display screen
Speaker audible to everyone within 30 feet
8 week battery life for long-lasting gloating
15 different confident tones of voice for selection
Pronounces French books with a French accent
Custom Dolby audio shouting
Can announce how many pages you have read
25% louder than iPad speaker
Automatically increases volume in loud environments
Can recite titles up to 30 times per minute
The price of Kindle Flare would most likely start at $199 but can announce that is more expensive if you refer.  What!?  😛
Alright, this post is just for fun. We only want to provide reliable information to our readers, but this one is funny and looks real too. If you read this 'news' somewhere else, please don't take this seriously, just read it for fun.  The original source was from here.