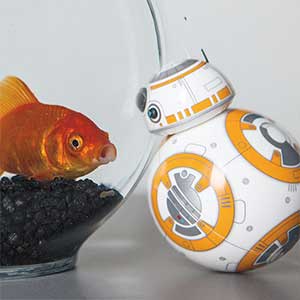 Friday 04 September is the Star Wars Force Day, it is also the day Sphero release BB-8 App-Enabled Droid for sales. This spherical robot made its first appearance in the Star Wars episode VII: The Force Awakens trailer, and it is quickly caught the attention of the viewers.
BB-8 App Enabled Droid Short Review
Sphero is the company that made this miniature version of this adorable BB-8 that can run around in your house. Though there are dozen companies that producing star Wars toys, Sphero is offering something a bit more premium than most companies. BB-8 is an app enabled droid, you will need your smartphone to interacting with it, of course the app is available on iOS and Android. You can control BB-8 remotely from your smart phone, and make it come to life and producing its authentic movement that you saw in the movie trailer. There are many interacting features in the app ranging from expressing various moods like nodding yes, shaking head for no, several sound effects and making different type of movements, and . According to the source, there will be more features update to the app when the Star Wars episode 7 is released on 18 December 2015. BB-8 is comes with rechargeable battery, and it come with an USB wireless charging station, when BB-8 sit on the charging station, it will twist and turn its head like surveying around your house.
Where to buy Star Wars BB-8 App Enabled Droid
The selling price of BB-8 may be a bit hefty, but this is not something like other ordinary Star Wars toys that you have seen before, this tiny adorable toy captures the personality of BB-8 in the movie. Many places are sold out on the day it went on sale, but you can get this authentic reproduction BB-8 droid from Amazon with Free Shipping to Singapore, click here to check the latest price. So far Amazon has the best deal, else buying from other places probably will cost you an additional USD30 for the shipping. In the event if BB-8 is out of stock, you can just make a preorder and have it ship to you once it is restock.
Below are some videos of Star Wars BB-8 Droid Reviews from YouTube:
Here again the link to Star Wars BB-8 App Enabled Droid, get it now to enjoy Free shipping to Singapore.