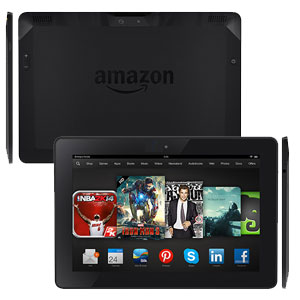 Buying Kindle Fire HDX in Singapore?
Amazon has announced new Kindle Fire tablets called Kindle Fire HDX, this update gives the expected upgrades on the tablets, and adds an amazing innovative feature: human customer support through live video chat.
Click here to check out the Kindle Fire HDX latest offer.
There are 2 sizes of the Kindle Fire HDX, 7 and 8.9 inches, featuring a 1920 x 1200 pixel resolution display (323ppi) on the 7-inch and 2560 x 1600 (339ppi) on the 8.9-inch. With that resolution, the 8.9-inch HDX provides the sharpest display around, whilst the brand new 7-inch HDX matches the Nexus 7 (2013) for pixels.
The hardwares upgrade include RAM, screen, processor, and casing. With regard to software, Amazon's got a completely new version of its operating system, they are based on Google's open source Android code, but Amazon has taken that core and transformed it into something totally different called "Fire OS". It is completely rewritten, the syste attempts to catch-up with iOS and Android for allowing user productivity and not merely media consumption.
A Kindle Fire HDX is 34 % lighter compared to previous generation of Kindle Fire HD. Now it is using a single piece of machined magnesium as the body and adding the capacitive touch layer into the Fire HDX's glass display. For processing power, the tablets exert the much faster 2.2GHz quad-core Snapdragon 800 with 2 GB RAM. Which is mean the Kindle Fire HDX is going to be faster, whilst provide slightly longer battery life at the same time. Pretty good considering the step-up in display and power. It is aided through a new software feature developed for reading, that shuts down non-important components to increase the battery to 17 hours in reading mode.

The new Kindle Fire HDX has dual stereo speakers with Dolby Digital Plus audio as well as virtual 5.1 multi-channel surround sound. Along with its Prime Instant Video app that enables downloads to your Kindel Fire HDX, now movies can be watched even if you are connected to the internet. If you are first-time Prime member, you will be given a free one-month Prime membership when you purchase a HDX. However, to use this feature on Kindle Fire HDX in Singapore, you will need a VPN service, click here to find out how to install VPN service for Kindle Fire HDX. You are also now able to "fling" your movie or show from the HDX with Second Screen, a new feature which allows you to wirelessly watch videos on your Kindle Fire HDX to a larger display screen. Using the Second Screen, you can also surf internet, use the X-ray media feature, and just about do everything on the HDX while your TV does its own thing in the background. Mirroring with the Kindle Fire HDX will be possible with Miracast-enabled TVs.
Below is the video presentation of The Kindle Fire HDX:

One of the most amazing feature in the Kindle Fire HDX sits beyond all these hardware specs. Users are now able to access a slide-down settings panel at the top of the Kindle Fire HDX's screen and click a button that connects them to "Mayday." That is Amazon's new video assistance chat, where users face a real human technician to assist them to resolve their problems live. Once you connect, the technician can easily talk to you and view everything that's on your display screen, sketch arrows and circles for you to see, or gain control of the User interface if you allow them permission. The Kindle Fire HDX's microphone is activated but your camera is not, which means you can see Amazon's technician but they cannot see you. Amazon claims it wants each customer to have a wait time of no longer than 15 seconds, and the service is free for anyone who has a Kindle Fire HDX. Oh ya, if you are using the Kindle Fire HDX "Mayday", better don't speak Singlish 🙂
Watch the below video demonstration of the Kindle Fire HDX "Mayday" feature:

Click here to findk out the full features of Kindle Fire HDX.
Some down sides to take note of:
Kindle Fire HDX has a decidedly Amazon-esque home screen experience. Which means no widgets, no customized launchers, no UI-enhancing tools. It is all about Amazon and the content that is available.  It is not consider a down side actually if you like a simple straight forward user interface.
Kindle Fire HDX does not have access to the Google Play Store for apps.
Kindle Fire HDX does not have access to core Android services. The Amazon Kindle Fire HDX products are Amazon media devices; not the Android tablets. You lose the potential and flexibility of Android but gain the simplicity of Amazon's own Amazon-centric vision. It is an entirely different environment which is not really a bad thing, so long as that is what you want. No question: Amazon's devices do well at providing a straightforward setup for content consumption.
Conclusion:
There is a broad selection of choices available in the Kindle Fire HD range now. The HDX models certainly bring the advantages of more power and more pixels. If you are looking at gaming on your Kindle Fire, the power-hungry games like Real Racing 3 will load faster and you will wring out more fine detail. The Kindle Fire HDX is what you want.  If you are looking for something for casual browsing at home, then the Kindle Fire HD may save you a several dollars. However, the 8.9-inch Kindle Fire HD, is a lot more heavy compared to HDX – if you are going to be holding it up to view, then you wish to get the HDX. Amazon has truly moved up in its tablet offering with its battery, display and processor upgrades, however it nevertheless looks much like the old Kindle Fires. If you are within a strict budget thinking about purchasing a new tablet or an upgrade, the Kindle Fire HDX certainly fit your choice.
P/S: You can borrow eBooks and Audiobooks from Singapore National Library Board on your Kindle Fire HDX, refer to this tutorial.
Buying Kindle Fire HDX in Singapore: