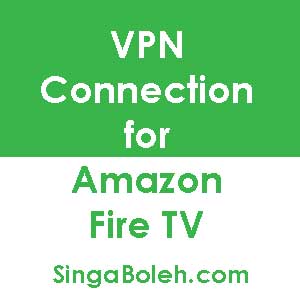 As promised in the earlier post on Amazon Fire TV Reviews, we are now providing this comprehensive tutorial on how to connect VPN for Amazon Fire TV in Singapore so that you can enjoy the video streaming services without restrictions.
Getting your Amazon Fire TV connected to a VPN not only allowing you to watch the Amazon Prime Video, but you can also enjoy all the other videos, TV series and music on Netflix, Hulu plus, Pandora and many more.
Connect VPN for Amazon Fire TV
There are TWO ways to setup a VPN connection for your Fire TV. In this tutorial, we are going to provide the methods that we have tested and are using.  We recommend you to use the Method B because you can get the 7 days trial account and it is simple and fast to setup.
We are using the SingTel fibre optic plan, the plan provide us with 1 unit of Optical Network Terminal (ONT) and 1 unit of lousy modem cum wireless router ;-).
Method A – Connect VPN on your Router.
Since you cannot connect VPN directly on the Amazon Fire TV, therefore you need to setup the VPN on the router and get your Fire TV connect to the router that has VPN connected.  To accomplish this, you will need to signup a VPN service, both PrivateInternetAccess and PureVPN do offer VPN connection on router.  The VPN setup on router is very much depends on your router model. You may have to contact the above VPN company or visit their website for more information on the supported router models.
The router that Singtel provide to us cannot support VPN connection, so we are using a second router for VPN connection.  This is also our preferred way to setup the VPN network.  By doing so, we will be having two separate network in our premises:
Network A from Router A with Singapore IP and network B from Router B with USA IP.  You can connect your other devices like Kindle Paperwhite or Kindle Fire HDX to the network B with USA IP and enjoy the full feature of your devices.
Of course, if your primary router do support the VPN (PPTP), then there is no need to get a second router for VPN connection if you wish not to.
If you want to setup two routers, the process of setting up the second router should be quite simple, connect a LAN cable from Router 1 LAN port to Router 2 WAN port, then run the router setup disc for Router 2 on a PC to complete the setup process. For more information, you may need to contact your router support or Google on the internet for more in-dept info.
Do take note that using VPN will somehow affect your network bandwidth, so you should have high speed internet for VPN setup on the router. It is recommended to connect the VPN network to the Amazon Fire TV using a LAN cable if your internet speed is not fast enough.
Below show a simple diagram of our router setup.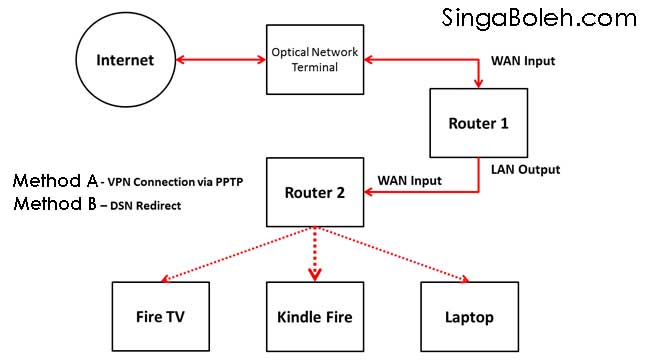 If you are not a technical person (just like us) or totally have no idea what we have mentioned above, then you may consider using Method B.
Method B – Redirect DNS Connection.
This method is actually not a VPN setup for Amazon Fire TV.  Instead this method is to redirect the router DNS to their Smart DNS Service .  It is quite simple to be done, but it require you to do change some setting in your router as well.   First, you need to signup an account with Unlocator.com.  It is a FREE 7 DAYS trial account, and NO CREDIT CARD NEEDED for signing up the free trial. Click Here to get the FREE TRIAL today.
Once you got your Unlocator account, access your router admin panel (refer to your router manual guide), we are using the TP-link router. Go to the DHCP settings and Set Primary DNS to 185.37.37.37 and Secondary DNS to 185.37.37.185, save the settings and reboot the router.
Connect your PC to this network and login to your Unlocator account, you should see THREE GREEN TICKs on the status indicates that your DNS is successfully setup.

Now with method you can connect your Amazon Fire TV to the network without VPN.
Remarks:
Using Unlocator will not change your IP address, it simply hide your actual location from the geolocation tools used on network.
Any devices (like Amazon Fire TV and Kindle Fire HDX) that connected to this network will be able to watch the supported channels. However, you CANNOT purchase app or Kindle book because it doesn't change your IP address.
Unlocator does not affect your internet speed, everything remains unchanged. Therefore, you can connect your devices to this network through WI-FI and still running smoothly.
Should I use VPN connection or Unlocator service for my Fire TV?
We highlighted some points below for your considerations:
Use VPN Connection:
– If you need to change IP location, e.g. for buying Kindle book or Kindle Fire Apps.
– If your router support VPN (PPTP) connection.
– If you have high speed internet.
– If your ISP is hijacking your DNS.
In your PC, run cmd and type: ping singaboleh-dns.com
It should return the result with "Ping request could not find host singaboleh-dns.com… blah.. blah..blah.." then your DNS is safe.
If the result shows some sort of IP addresses, then your DNS is probably being hijacked by your ISP and Unlocator will not work on your router.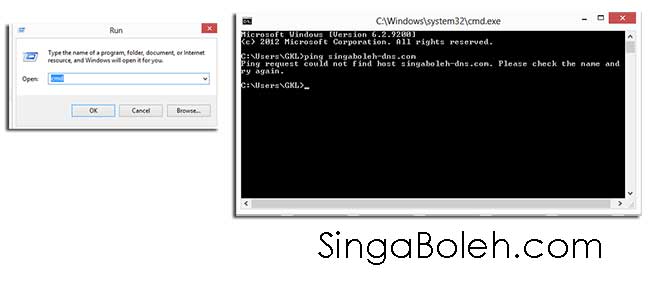 Use Unlocator:
– If you already have separate VPN service (like PrivateTunnel) for buying Kindle books.
– If you do not have any router that support PPTP.
– If your internet speed sucks.
– This is also useful as an alternative to VPN for Apple TV, Roku or VPN for smart TV in Singapore.
Now you can watch the Amazon Prime or other video/music streaming services without restriction. Both services either VPN connection or Unlocator plan comes with unlimited bandwidth, so you can have it on 24 hours. Using Amazon Fire TV in Singapore and Malaysia is now made easy.
Get the Amazon Fire TV here today. If you are not sure how to buy a Amazon Fire TV and get it ship to your, refer to this tutorial.
Do Share this useful information to your friends!
Share on Facebook
Share on Google+
Share on Twitter