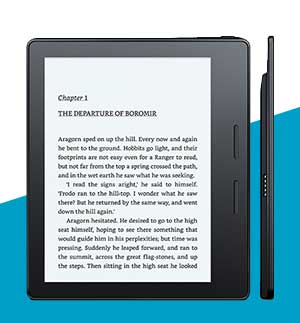 Kindle Oasis for Kindle fans in Singapore. Kindle Oasis is the latest Amazon ebook reader released in 2016, after the launched of 3rd generation Kindle Paperwhite in 2015 and Kindle Voyage in 2014. (See the LATEST PROMOTION of Kindle Oasis HERE) The most noticeable changes to this new model is its aesthetic elements. Kindle Oasis is uniquely designed with one side of its body thicker than the other side. The asymmetrically designed Kindle Oasis stands out from all previous Kindle models, except the first generation Kindle, which is also asymmetrically designed too.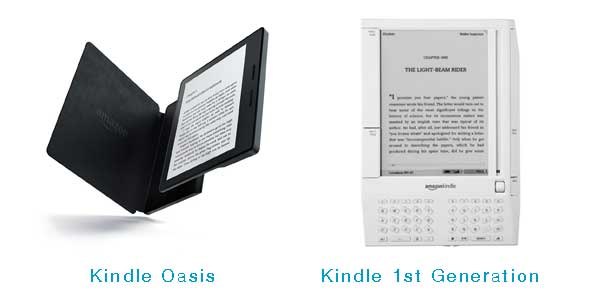 The thin side of Kindle Oasis is only 3.4 mm with metal-plated slate, making it the thinnest Kindle to date. Unfortunately, the screen resolution is remain at 300 ppi on the same 6-inch size as Kindle Voyage. But the body size of Kindle Oasis is much smaller than Kindle Voyage, the LEDs lighting surrounding the screen has increased by 60%, it now consists of 10 LEDs light, that's mean the screen brightness is more consistent and spread evenly for absolute comfort reading experience.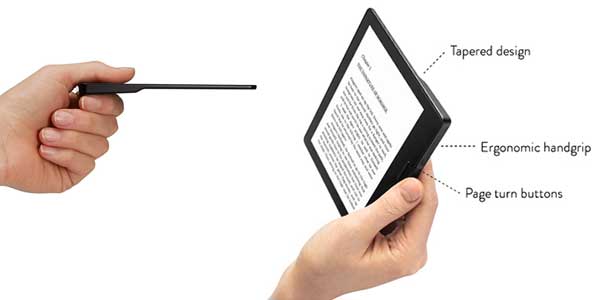 On the other side of Kindle Oasis, it is slightly heavier and thicker where it houses the battery, processor, and circuitry components. The one-side weighted design not only look cool, but it also created a comfortable grip for one-handed usage. Most of its weight is now lie in the center of your palm so that your hand will not stress in counter-balancing the device's weight when you hold it with one hand. The thicker side has the bezel which allow you to flip the pages with one hand. You can hold the Kindle Oasis with either your right hand or left with ease, and the screen will rotate automatically to suit your reading direction. It also brings back the dedicated page-turn button which allows you to flip the pages forward or backward quickly with your thumb.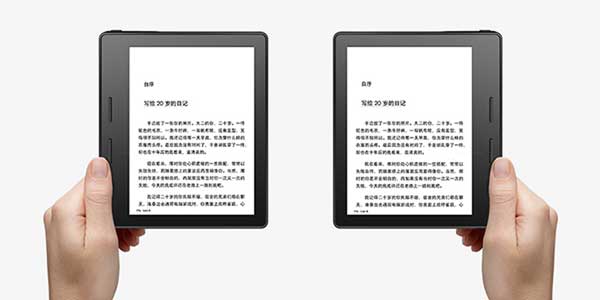 The body of Kindle Oasis is made of metal-plated polymer frame (a strong plastic yet light in weight) bring its weight down to only 131 grams, which is as least 20% lighter than other Kindles. Like all other Kindles, the battery life always lasts very long, and Kindle Oasis now offers months of battery life instead of weeks, thanks to the bundled leather battery case. The battery case is a revolutionary design in Kindle family, the case not only provide protection to your Kindle, but it also serves as portable charges to provide additional battery power to the Kindle Oasis. The case is neatly designed to match perfectly with Kindle Oasis shape, it has a small connector at its edge and securely lock to the bottom of Kindle Oasis with 12 pieces of tiny magnets. When you plug the charging cable to the Kindle, it will charge both the main unit and the cover at the same time. When you are on the go, the cover will start to recharge the Kindle Oasis, so the power stored in the main unit will be the last to consume. Now, combine with the new hibernation mode in its software, it extends the battery life to the fullest capacity. A Kindle Oasis with a battery cover makes the battery life last up to 9 weeks! The bundle allows you to enjoy reading for months without plugging into the charger. The Kindle Oasis battery case is made of premium leather, and it is sold together with the main unit as a mandatory bundle, and it is available in three different colors (merlot, black and walnut).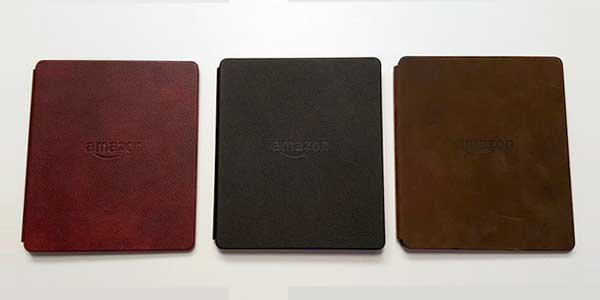 Should I upgrade to Kindle Oasis?
Despite the cutting-edge-design and battery case are quite impressive for this new Kindle, there are not many changes to the hardware, there is no upgrade in its 4GB storage capacity nor any noticeable speed increase in its processor. Kindle Oasis is still a purely reading device, although Amazon is trying to introduce Alexa into other devices such as FireTV, there is no sign of Alexa assistant can be found in the Kindle Oasis, so you will not expect to communicate with your Kindle or tell Kindle Oasis to read any Audible audiobooks. There is also no signs of most requested color screen nor water-proof built for Kindle Oasis.
If you are already owned a Kindle Voyage or the latest model of Kindle Paperwhite which are working fine, or if you are not a hardcore reader nor Kindle fans, then upgrading to Kindle Oasis may not seem to be an ideal option.
Should I buy Kindle Oasis?
The Kindle Oasis is launched at US$289.88 for Wi-Fi version with Special Offers, (Click here to see the latest price of other Kindle Oasis variations) it is quite pricey in comparing to Kindle Paperwhite where you can buy two units of them for the same price. However, if you are one of the hardcore readers with enough budget to spend, then Kindle Oasis is an excellent ebook reader to get considering the long battery life and the ease of one-hand operation. Else, Kindle Voyage is still the best option for regular readers.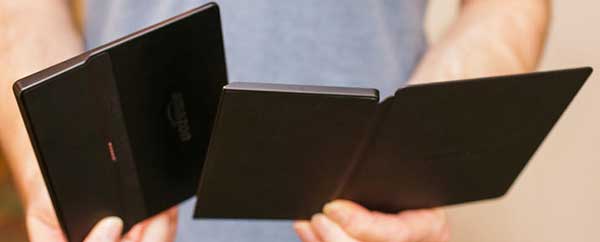 How do I buy Kindle Oasis in Singapore?
As you may or may not have already known, Amazon Kindle devices are not officially supported in Singapore. Of course, you can use Kindle in Singapore, just that Amazon does not provide direct shipping to buyers in Singapore, so you will need to use a forwarder service to receive your purchase in the USA and re-route the delivery to you in Singapore. To learn more about how to buy Kindle Oasis on Amazon and how to ship it to Singapore, please read this post for more detailed information.