Amazon USA Free Shipping to Singapore:
This post provides you the quick guides to buy things from Amazon USA and have it ship to Singapore for free, this guides also applicable to Amazon Free shipping to India too.
AmazonGlobal Saver:
You can get your Amazon order ship to Singapore and India for free with AmazonGlobal Saver, below are some key points to take note of.
Amazon USA Free Shipping Eligibility:
In order to enjoy the free shipping for your Amazon order, you must first purchase the eligible items, that is, the item has to be sold by Amazon USA only (item sold by third party and fulfilled by Amazon is ineligible), and your total purchase must be above US$125.
If you refer to the product description on the product page, you can tell if a product is eligible for free shipping to Singapore. Under 'Shipping' description: "This item is also available for shipping to select countries outside the U.S." – that's means this product may be shipped to Singapore. Whereas, "Currently, item can be shipped only within the U.S." means it would not ship to Singapore.
However, even a product has met all the above criteria, the free shipping to Singapore or India may not be offered due to the size and weight of a particular product.
Methods:
If you refer to AmazonGlobal information page, they will recommend you to search for an eligible product through their International Shipping Search Page (www.amazon.com/global), the products listed on this page are eligible for international shipping. However, it is NOT SO RECOMMENDED to use this search page because the products shown on the results are quite limited, and throughout the searching process, it will mistakenly mixed up with some ineligible products.
The best method is use the regular Amazon USA main page to search for your products and use the filtered option at the left panel, check the 'AmazonGlobal Eligible' and Amazon.com under 'Seller'. You can refer to this post for more in-depth tutorial.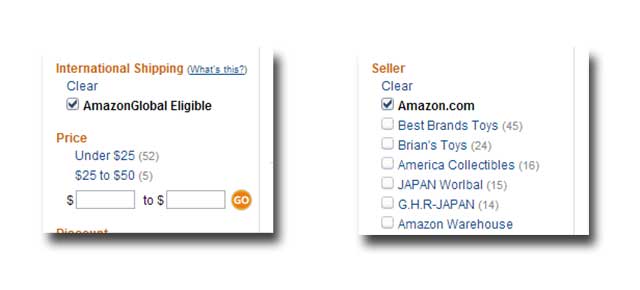 Alternatively, you can also use our pre-filtered AmazonGlobal Eligible Products Page; we have categorized all the products which are eligible for international shipping. It is very comprehensive for you to select the product for free shipping to Singapore or India.
Benefits of buying from Amazon USA with free shipping to Singapore:
Many people find that buy from Amazon USA is way cheaper than buying from Singapore retailer, if delivery time is not a concern for you; you will find that with free shipping from Amazon USA to Singapore can save you a lot of money. Many popular products like baby clothing, Babybjorn and Ergobaby Carrier, Fisher Price, Phillips Avent, Munchkin and Vulli Sophie the Giraffe Teether can be shipped directly from Amazon to Singapore for free.
Some popular toys like Transformers, Star Wars and Lego are much cheaper to buy from Amazon USA with free shipping to Singapore. You may also find products that are not available in Singapore from Amazon.
Some key points to take note of:
When you place your Amazon order, do remember that total purchase above SGD$400 will incur GST (this total amount is inclusive of shipping charge if there is any); you can simply separate your purchase into few smaller orders not more than SGD$400 each to avoid this extra cost. (more about tax info on Singapore Customs)
If you have purchased a single item which is more than SGD$400, then GST is unavoidable, Amazon will collect the tax from you in advance and they will handle all the custom clearance process. This is really a hassle-free shopping experience.
Lastly, the delivery time of Amazon USA free shipping to Singapore takes about 2 weeks. However, the shipment takes shorter than 2 weeks during off seasonal period. They will ship out the product to you once it is available, so it is quite common to receive few packages from a single order and arriving on different dates.  The fastest record we had was only 5 working days, the package was sent to us in a huge carton box via DHL express.
Are your friends know about this information?  Share with them on your Facebook.