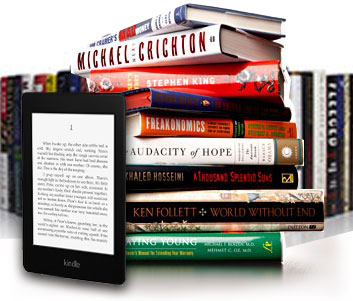 Previously we have discussed how to buy kindle in Singapore and Malaysia.  In this post, we are going to talk about how to buy Kindle books in Singapore as well as buy Kindle books in Malaysia, both countries use the same method, let's just refer to Singapore. As Amazon does not ship Kindle to Singapore, of course, Kindle books are not available to Singapore too.
This tutorial will be showing you on how to buy English Kindle book at US Amazon, if you are interested in buying Chinese Kindle book, here is a separate tutorial  on how to buy Chinese Kindle book at China Amazon.
How are we going to buy Kindle books in Singapore?  You can buy it through a computer or directly from your Kindle, but you need to do some "settings" before buying any book.  There are many Kindle users in Singapore, some of them manage to purchase Kindle books as normal without any problem; but some are not so lucky because their purchase transaction was blocked by Amazon (it usually happen when Amazon detected that you are not buying the books in US or your payment was not made via US credit card.).
We will show you how to buy Kindle books in Singapore using both methods: the "normal way" (do it at your own risk) and the "risk-free" method.
Before you start to buy any books for your Kindle, you should have registered your Kindle using your Amazon account.  After you have registered your Kindle, you need to do TWO things:
1. Change Your Kindle Country Settings:
If you do not change the country settings, whenever you search for any book in Amazon.com, it will displays a message "This title is not available for customers from your location in: Asia & Pacific", and you are unable to buy the book.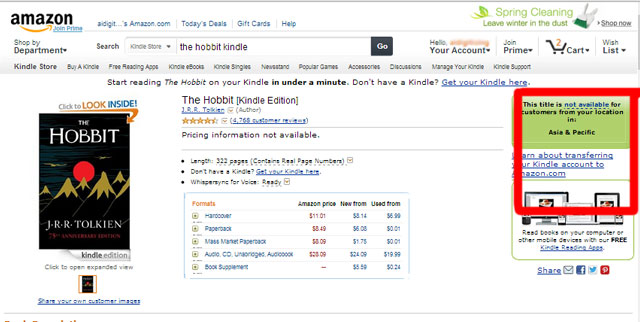 – Go to Amazon.com and log into your account.
– At the right top drop down menu, select "Manage Your Kindle".
– You will see "Your Kindle Account" at the left panel, select "Country Settings".
– Make sure you change it to "United States". (Generate a US address here, and make sure your address is from these tax-free states:Alaska, Montana, New Hampshire, Delaware and Oregon)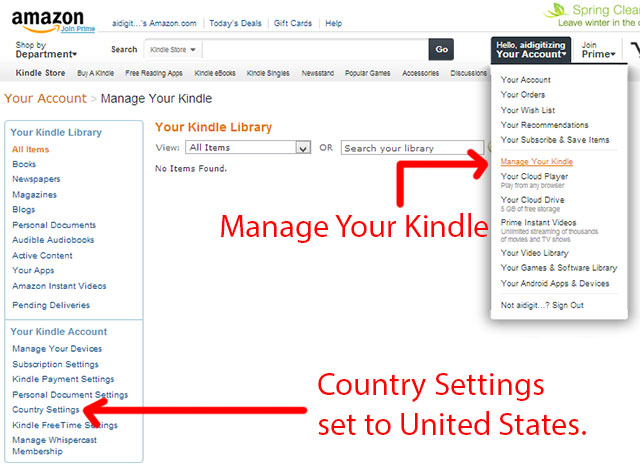 If you search for any kindle title again, it should now available for purchase: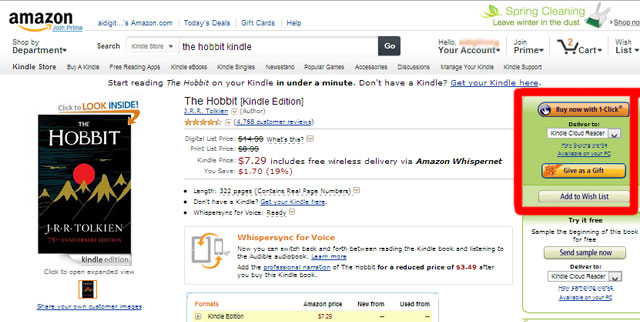 2. Load money into your Amazon account with Amazon Gift Card.
This is the prepaid fund (known as Gift Card Balance) in your Amazon account, each time you buy a Kindle book, it will deduct from your Gift Card Balance.  The purpose of using Gift Card Balance is to avoid unnecessary risk for Amazon to detect your purchase is made by non-US credit card.  So, it is recommended that you should use Gift Card Balance even if you are using the "normal way" to buy Kindle books in Singapore.  Furthermore, the Gift Card Balance in you Amazon account has no expiry date, you only need to top up again when the balance is low. Refer the following steps to buy Amazon Gift Cards:
– Visit Amazon Gift Card Store, click here.
– Select the amount. Say $50 or $100 or more if you buy a lot of books.
– Enter your own email as Recipient E-mail.
– Click purchase.
– Enter your credit/debit card details if requested.
– Enter billing address if requested.
– Place your order and the Amazon Gift Card will be sent to your designated email address.
– Login to your email account to access the Amazon Gift Card. (sometimes it may take a while to reach you)
– Click the "Redeem now" button in the Gift Card.
– It will redirect you to the Amazon account.
– Login and click the "Apply to Your Account" button.
– The money is now loaded into your Amazon Gift Card Balance.
– You can set a US address to your billing address or "1-Click settings" in your Amazon account. (you can get a US address here, if the address shows invalid, just generate another address)
IMPORTANT: REMEMBER TO KEEP A RECORD OF THE ADDRESS (ESPECIALLY POSTAL CODE AND TELEPHONE NUMBER) YOU ENTERED INTO YOUR ACCOUNT.
You may consider to do this extra step to delete your credit/debit card information from Amazon account after purchase the Gift Card:
– Go to your Amazon account, select "Manage Payment Option".
– Delete the card details.
Buy Kindle Books in Singapore and Malaysia
Now we are ready to buy some books for our Kindles.
A. How to Buy Kindle Books in Singapore – THE NORMAL WAY
You can now search for any book title in the Amazon website and "Buy now with 1-Click" and have the book deliver to your Kindle, or you can connect to wifi and access the Kindle store to buy book directly from your Kindle device.  Try this at your own risk, I have tried this without any problem but some claimed that this method does not work for them, then you need to look at the 2nd method written below. (some Amazon accounts may get suspended)
B. How to Buy Kindle Books in Singapore – THE RISK-FREE METHOD
With this method, it is advisable not to buy book directly from your Kindle device.  You will need a VPN installed on your computer, and buy books using your computer only.
The Amazon can detect your location through your computer IP address. (you can simply see your IP address at the upper right corner of our website).
By using a VPN, it will mimic your computer IP address into a US address (your computer location will display as United State instead of Singapore).  The steps are quite easy, just refer to the following:
– Visit this link: Private Tunnel VPN, sign up is FREE, and you will get a FREE 200MB 2GB data after signed up the account, you may also consider to get the 100GB data plan which only cost USD19.90. If you are using this just to buy Kindle books, 100GB data will last you for many years and the data has no expiry date. Furthermore, Private Tunnel works on Windows, Mac, Android and iOS devices.
– After signing up the account, download the VPN software and install.
– Login and connect. Open the internet browser. (you can visit Singaboleh.com to confirm your new IP address, refer to the upper right corner of this website, as shown in the screen shot below.  If you are browsing with mobile phone, you may need to click on the menu, or scroll further down to the bottom of this website).


– Go to Amazon Kindle Book Store and search for the book title you want to buy.
– Buy the book and download it by "Transfer via Computer" which you will need to transfer the book to your Kindle via USB cable, OR
– Have the book "Deliver to" your Kindle directly. (so far, we did not hear that anyone facing problem with direct deliver to Kindle when using VPN and Gift Card).
– After you bought the book, do remember to disconnect the VPN.
– That's all. You should be able to download the book in your Kindle after few minutes or less.
If you find this tutorial useful, do share How to Buy Kindle Books in Singapore Tutorial to your family and friends:
1. Share this on Facebook.
2. Share on Twitter.
4. Leave a comment if you have any question or share your own experience below.