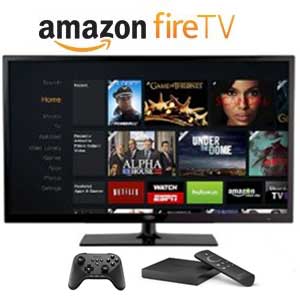 Amazon launched Amazon Fire TV on 2 April 2014 (Singapore 3 April 2014), price at US$99, with a Bluetooth-based remote controller. Amazon is aiming to take on Apple TV, Roku, Chromecast and even the Xbox One.
Click here to check out the Amazon Fire TV latest Promotion.
Amazon Fire TV is an easiest way to enjoy Prime Instant Video, free video streaming and low cost renting of latest movies and TV episodes, Amazon Fire TV make your investment in Amazon Prime worth double! Other streaming services that are available on the Fire TV include Netflix, Hulu Plus, Watch ESPN, Crackle, YouTube and more. However HBO Go and Vudu are not available. Fire TV has a feature called ASAP, where it allows you to play movie without any buffering or load time. It also predicts and pre-loads content that you want to watch. Over time, it will learn and provide better recommended contents for you. You can also access your entire Amazon MP3 library to enjoy any song that you have purchased from Amazon, you can stream music through tunein, iHeartRadio, Vevo and Pandora on Fire TV.
Amazon Fire TV for Children
Fire TV has a parental control feature called FreeTime which is similar in Kindle Fire HDX. This feature allows parents to arrange content into a special mode for their children, it is useful to limit the TV watching time, have control on the shows that children can watch, and prevent accidentally accessing unsuitable content or something.

Hardware and Specification
Amazon Fire TV may be a tiny set-box, but the hardware specifications are impressive, it is equipped with a quad-core processor, full 2 GB RAM and its very own dedicated GPU for gaming capabilities. It supports 1080p streaming and Dolby digital surround sound out through a HDMI cable. Fire TV is powered by Android and HTML 5, this allows the apps provider to port over their apps to this platform easily. Amazon aimed at three weaknesses that the competitor devices like Apple TV, Roku, and Chromecast has, i.e. search, slow apps performance and a closed ecosystem. Amazon market its Fire TV to overcome these weaknesses. It is a device that you plug into your TV that runs on an open Android ecosystem, Amazon said the Fire TV is three times more powerful than the Apple TV. Click here to see the comparison chart between Amazon Fire TV, Roku 3, Apple TV and Google Chromecast.
The Fire TV has both dual-band Wi-Fi and Ethernet port for internet connection. It uses Bluetooth-based remote controller which allow voice search for you to speak into the remote to control the TV, easing the pain of scrolling and clicking to find content. The remote controller also serves as a gaming console, something similar to the Nintendo Wii controller,  but it only works on the navigation button, it does not has vibration nor gyro sensor.
Amazon Fire TV as Game Console
The Fire TV is built to be a gaming device as well, in a month time, Amazon will provide plenty of games titles to the Fire TV users. According to Amazon, the games titles are decently cheap, averaging under $1.85 per title. The coming up game title includes Minecraft, Monsters University, Asphalt Airborne 8 and Amazon own game, the Sev Zero.  Other than using the default remote controller, you can also connect the Amazon Fire Game Controller to the Fire TV to play your favorite games.  The gaming controller is sold separately. Check out here for more info on Amazon Fire Game Controller.
Video Demo of Amazon Fire Game Controller:
Other Features
You can access your Amazon Cloud Drive via Fire TV, you can sync photos or video from all your devices to the Amazon Cloud Drive and enjoy it on the big screen. If you have Amazon Kindle Fire HDX, you can mirror your tablet on your HDTV easily, you can share movies, TV shows, music and photos on your tablet onto the TV. It allows you to 'fling' the video or music playing on the table to the TV so that you can perform other tasks, your TV will act as second screen of your Kindle Fire HDX.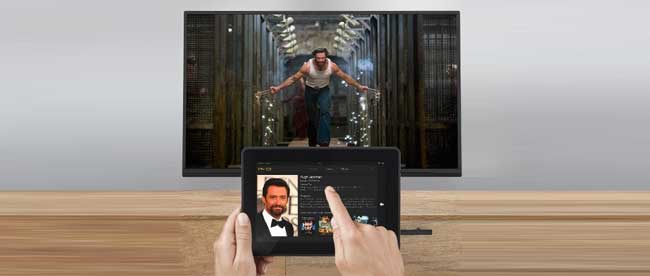 Amazon Fire TV in Singapore
The launch of Amazon Fire TV is definitely an excited news and we can see that this tiny little box can perform so many things. Since it is a newly launched device, we have yet to test if Amazon Fire TV can be used in Singapore easily, see this post on Amazon Fire TV hands on reviews and using Fire TV in Singapore demonstration. If we can stream Amazon Prime content on Fire TV in Singapore, then this device is definitely a good buy. Maybe there are not many free new movies available on Amazon Prime, but there are tons of FREE documentaries, TV series and children programs which make it very worth to subscribe for Amazon Prime. Lastly, not forgetting the device can be use as gaming console too!
Same like Amazon Kindle devices, order Amazon Fire TV on Amazon require a package forwarder service to send it to Singapore. The process is similar to this buy Kindle tutorial.
Video Presentation of Amazon Fire TV: